HVAC Services in Tempe, AZ
Repair, Maintain, Replace. From Residential to Commercial
The professional HVAC services team at Fact HVAC will take care of all your HVAC needs without breaking your wallet. Our reliable team of heating, ventilation, and air conditioning experts will make sure you get the service that you deserve. From repair to maintenance to replacement, get fast, guaranteed solutions using high-quality products.
We'll make sure your residential home gets the care afforded to big commercial establishments. We're here to help your business get the low-cost maintenance and support that residential systems get. We're here to help, not to sell. Talk to us and get the service you deserve.
No sales HVAC solutions
We'll help you, not sell to you
Fast HVAC Repair Solutions
Your HVAC can break down when you need it the most. When it fails you, FACT HVAC is here to save you. Our team is one text away, with half the turnaround time than most teams. Our heating and air conditioning experts can solve most issues with reliable speed. From simple leaks to complete breakdowns, you can trust our tech team to do HVAC repairs quickly.
Pick what works best with your schedule, and we'll be available to work with you. No ventilation repair is beyond our expertise. It doesn't matter which system doesn't work for you. Let's bring you back to comfort. Rely on FACT HVAC to get your heating and air conditioning back in working order.
Heating and Cooling System Replacement
Buying a new AC or heating system shouldn't suck. Not many people know what the best options for their home and commercial air conditioning are. FACT HVAC knows, and we'll help you save money replacing your old systems.
FACT HVAC makes it easy to start with a brand new HVAC system. We'll hook you up with high-quality heating and air conditioning without the premium price. Look at our American Standard and Goodman systems and save thousands upon thousands of dollars. Compare our prices and quotes – we'll even guide you on what works best for your home and business.
Get great financing options on prices that include taxes and installation. No hidden charges!
Routine HVAC Maintenance
Prevention is better than cure, and maintenance is much better than repair or replacement. Routine HVAC maintenance is crucial to keep your systems humming in your Tempe homes. Heating and air conditioning can run almost 24/7, which means they need to run at peak performance. FACT HVAC can keep these systems running. Here's how we do it:



Seasonal System Checkup

We can give your cooling and heating systems a check both during spring and fall. These are the best times to start maintenance so you can ease your mind during the summer and winter. In spring, we'll check all parameters and make sure your air conditioning keeps you cool throughout Arizona's hot summers. In fall, we'll give your heating components a rundown to make sure there's no frost on those cold desert nights.




Improve System Performance

Regular maintenance checks from FACT HVAC make sure you get optimal operation. We remove any dust, debris, and lube up your parts to maximize performance. You don't want your systems to work harder for the same output. With the cost of energy nowadays, systems need to perform at their best with remarkable efficiency.




Better Longevity

FACT HVAC maintenance will help extend your heating and air conditioning lifespan by years on end. From making sure you have safe wiring and electricals to keeping air filters nominal, we make sure you don't get setbacks that can make your systems run below expectations.
FACT HVAC Maintenance Plan
HVAC Maintenance Programs can be a hassle to have, and we understand. It's money you pay to keep everything normal, and not everyone feels it's worth it. FACT HVAC gets that, and that's why we offer you our Zero Repair Cost Guarantee.
With our guarantee, we'll charge $50/month per system over three years. We'll cover everything, and we won't you a single dime more for parts and labor. We'll do two (2) hands-on seasonal services and do parts replacement when you need it. Our team will even provide high-quality filters straight to your door at no extra cost. You'll get priority schedules for all maintenance and repair work: one price, zero worries. Cancel your subscription any time you want.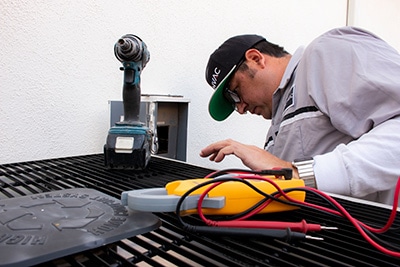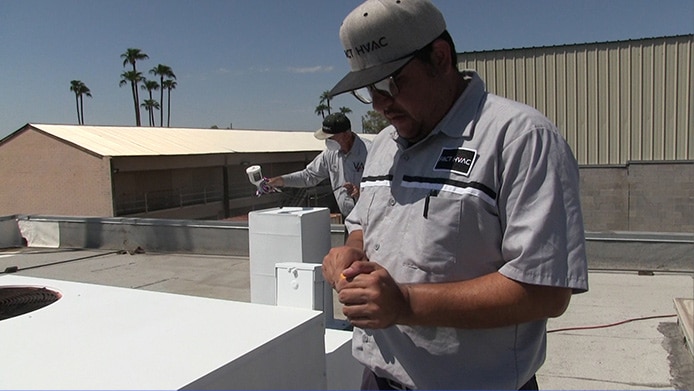 FACT HVAC Commercial HVAC Services
It takes a lot of time, money, and effort to keep a business cool and well-ventilated in Arizona. FACT HVAC provides commercial maintenance and repair services through our team of experts. We'll redefine how your facility runs with our premium HVAC support. From installation to maintenance and repairs, we have you covered.
FACT HVAC can install new commercial HVAC units that can save you money in the long run. We don't stop at giving you savings upfront but long-term too. Our offerings are transparent and fair, which stable pricing all-year.
We at FACT HVAC can also provide a variety of maintenance programs according to your needs. We have Proactive Replacement Programs, Zero Repair-Cost Guarantees, and Quarterly System Reports that will save you money over time. We even extend your system lifespan with energy-efficient cabinets and coal coatings that protect critical components.
Find out how you can save thousands upon thousands of dollars on your heating, ventilation, and air conditioning.