Many people have heard of the German company Bosch appliances. Bosch came to the U.S in 1906. Since then, Bosch has proudly made leading home appliances, and now their new efficient air conditioner has been released.
Researching for the best air conditioner can be overwhelming, especially when there are so many different companies saying they have the best out there! This post explains why Bosch's new unit is worth the money.
What Makes Bosch Air Conditioning Units Different from The Others?
So why do we love Bosch HVAC systems so much? Let's break it down a little further.
Size & Weight
Bosch offers many different-sized units, 18 series splits, 20 series splits, and two other package units, 19 SEER and 18.5 SEER condensers. These models share the same single board with a few different parts and pieces, including four condensers, eight Air Handlers, and two package units. This makes it easier to get what you need if you ever have an issue.

Bosch units are also smaller and lighter than traditional air conditioning units. Standard units are roughly 35.5 x 35.5in, and a typical residential air conditioner outside unit has a shipping weight of 150 to 210 pounds, depending on the unit's design. A Bosch 3-ton unit is 29 ¼ x 29 ¼, and the 5-ton is 29 ¼ x 29 ¼ and 8 inches taller and fits through any door. This is extremely nice when you have the unit outside your bedroom window. It doesn't block your view! Also, moving these units doesn't require a crane or ten people to lift.
Efficiency
Now to the good stuff, how efficient is the Bosch air conditioner, and how can this help save you money in the long run?
Bosch air conditioning units are compatible with any smart thermostat and have a smart system built within itself. This works with the set point (the temperature at which the thermostat is set inside) and pulls air at a slower, consistent rate. The unit will get as close as possible to that set point without going over. While doing this, the unit will learn the best cooling cycle for your home. Bosch's cooling unit also has the option to run a two-stage thermostat, which means the unit runs for extended periods and provides more even cooling distribution. This feature is highly beneficial and money-saving because, living in Phoenix, not every house is designed for a 16 SEER plus equipment due to being relatively new. Also, how many homeowners want to pay to re-duct their whole home to work appropriately?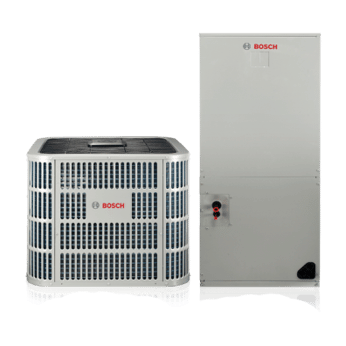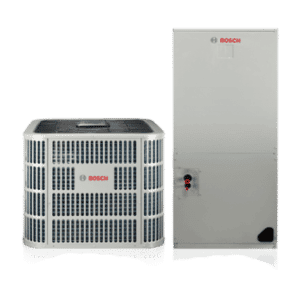 Lastly, these units have built-in coil temperature and a built-in amp meter that constantly looks at what it is sending out and what it is getting back in, which can determine the load in the space regarding refrigerant pressure temperature.
Wrapping Up
Here at FACT HVAC, we are proud to be partnered with Bosch. They have built a loyal customer base by manufacturing high-quality home appliances for decades, and now they have brought those same high standards and innovation to the HVAC world.
Watch the Bosch Demo at FACT HVAC!
Call us at (480) 276-4658 or contact us online to discover the excellence of Bosch Air Conditioners with FACT HVAC. Experience exceptional solutions with FACT HVAC today.