Seasonal FACT Check: What We Do
Spring Service: We will check the cooling components of your HVAC system to make sure it is ready to handle our long Arizona summers.
Fall Service: We will check the heating components of your HVAC system to make sure you and your family keep warm on those cold desert nights.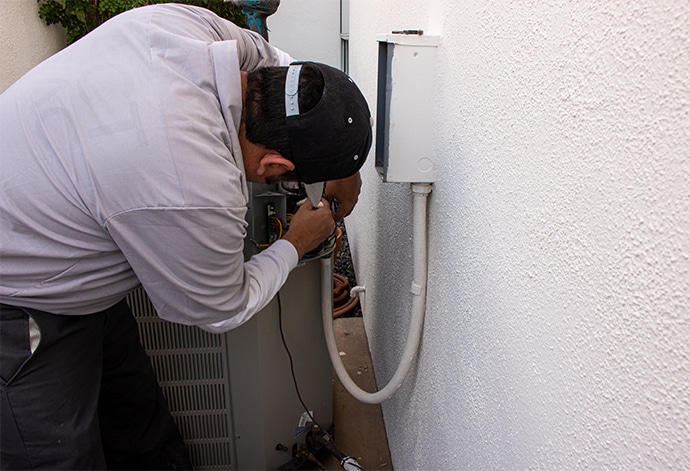 Detailed Seasonal FACT Check Report
Check Thermostat
Inspect contactors, relays and controls
Inspect wiring and electrical connections
Inspect fan motors
Check blower compartment for leaks
Check drain pan for rust, corrosion and slime
Inspect ventilation for airflow
Check motor and compressor AMPS
Inspect coils for dirt and debris
Inspect belts for proper tension
Inspect electrical disconnect and fuses
Check refrigerant level
Check temperature differential
Inspect air filter

Christopher Sanchez

Tim (our technician) was knowledgeable, kind, and respectful. Really felt like we were in the best hands.

Michael Hamilton

Excellent value for the money.
No up selling, Honest. I'm a mechanic by trade and they checked all the boxes.They do quality work at a fair price. Knowledgeable without exorbitant or hidden fees.
They are my go to company.

Kathleen Ritenour

Jario did a HVAC clean & I am so happy with his work. He was thorough & so nice & professional. I will definitely use Fact again in the future

AZ Bounce Houses

JOE WAS GREAT.. THE PEOPLE THAT WORK FOR A COMPANY CAN REALLY MAKE UP FOR ANY DEFICIENCY THAT A COMPANY MAY HAVE. JOE WAS KNOWLEDGEABLE, KIND AND EFFICIENT

THANKS

Douglas Mize

"I appreciate Mario explaining the condition of each unit and future service recommendations. He is very polite, knowledgeable and respectful of the tenants. Thank you. 5 Stars ⭐️ ⭐️ ⭐️ ⭐️ ⭐️".

Jenna Roller

Our technician was very friendly and efficient in evaluating our AC and doing the needed repair. I was also impressed that they could schedule us within a week (for a non-emergent issue). We will definitely use FACT again and recommend to our neighbors!

nancy pope

Wonderful company. Wouldn't consider anyone else. No need to worry, they are all honest and do the best work. On time and professional in every way.

pamela jose

Mario was right on time and did a great job getting my units ready for winter. I had a few concerns and he was able to address each one. I feel confident firing up my units and being cozy this winter. Thanks, Mario!

Debra Rivera

"Great experience! Fast, timely, professional and affordable. I would recommend Mario and FACT HVAC for any service. Mario was polite and pleasant to work with.".

Brenda Brasch

Installed new mini split. Great install crew! Unit works very well. I recommend the company and a mini split system.

Jody Pratt

I was scheduled ASAP which is great since the AC is essential in AZ. Josh showed up early and did a thorough job. My warranty company assigned Fact HVAC to my service request but I'd call them for service if needed. Great job.

Michael-Martin Moreno

Jay and the guys from Fact HVAC was awesome. Came out to give us an estimate for a home inspection we had done. But not only did he do that, he also found additional items that needed to be corrected. Stellar service!

Jack Haworth

This was a great service experience! Mike, my technician arrived on time as scheduled, Diamond did a great job handling the scheduling, Mike was fast and very thorough. Showed me pictures of what he had done and had it running in a little over an hour. Outstanding!

John Gubser

Tim was professional, prompt, diagnosed the problem quickly, and kept everything clean. He did a great job and I appreciate his work and everyone I spoke with at FACT over the phone.

Melody

Tim is a true professional, he is very knowledgeable and efficient. He had my unit running like new very quickly. He is also extremely tolerant of obnoxious dogs and the kind of guy you don't mind having in your house.

Jared Laabs

Just had a new unit installed on my roof. Every step of dealing with FACT HVAC was great. All staff were helpful, knowledgeable and friendly. The crew had the whole job done under 3 hours. 11/10 would recommend.

Michael Raphael

Tim, our serviceman, was prompt, professional and personable in performing his service call.
He readily addressed our questions and concerns, providing detailed information as requested. We were very satisfied in general and will retain Fact HVAC for annual inspections.
L & M Raphael

Chad Wolver

We couldn't be more happy with our decision to use FACT HVAC. Andrew and his technicians were timely, communicative, and demonstrated the highest integrity. I highly recommend you use them! We had a terrific experience and they exceeded our expectations.

Gary Klein

Great customer service! Cesilee and Jess were great. Thanks for all your hard work. I'm sure the long hours on these hot summer days can be tough. Thanks again for a job well done.

Chase Acosta

We called at 1:30PM and was able to get a same day appointment. Our tech, Mario, was onsite within 90 minutes and quickly resolved our issue! Very friendly and knowledgeable.