For many consumers, the choice of brands is between American Standard and Trane Systems. Whether you're looking for an air conditioner, heat pump, furnace, air handler, coils or other accessories, these are two of the most well known brands in the industry.
When shopping for a heating, cooling and air conditioning (HVAC) system, the choice of the brand matters a lot. Established manufacturers have refined their technology over the years and their products rank highly on the market.
This guide looks at American Standard and Trane Systems, to give you more insight on the differences. With this information, you can make the right purchase decision.
Same Company Different Brand Names
While American Standard and Trane Systems trade as different brands, the two are in fact the same company. American Standard has a reputation as one of America's oldest manufacturer of household products. Trane, on the other hand, is one of the most recognizable brands in the HVAC industry.
Back in 1984, American Standards bought the Trane Heating and Air Conditioning Company. However, in a strategic marketing move, the two companies continued operating under different brand names.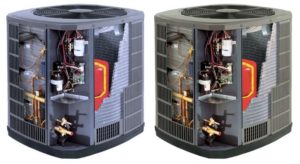 The idea was to produce similar HVAC products but leverage different established logistics chains, marketing channels and customer bases. The mother company, Ingersoll Ran, didn't want the disruption that comes with mergers or acquisitions and the strategy has worked tremendously, as many consumers still regard these as competing brands.
The two brands have maintained a reputation as premium HVAC manufacturers competing among high end brands. They both have a reputation for reliability in heating and cooling sy
stems. You expect little of a difference in the quality of products, because the products go through similar manufacturing and quality testing standards.
American Standard vs Trane
While there's a lot of similarity between American Standard and Trane systems, there are some slight differences. Take a look:
Pricing: American Standard and Trane estimates are close, but American Standard AC is slightly priced higher

.

Range of models: Both brands make 7 HVAC models that are similar, but Trane has two more unique systems, the Trane XL16i and Trane XR17.

Line of products: American Standard air conditioners come in 3 product lines: the Silver Series, Gold Series, and Platinum Series. Trane, on the other hand, uses model numbers.

Warranty: American Standard has a limited warranty which you have to register for 60-days of AC purchase. Trane's air conditioners come with a 5-year limited warranty if you don't register your HVAC product or a 10-year limited warranty for registered products. The warranty covers all components both interior and exterior.

Branding: While the Trane and American Standard HVAC products go through the same assembly line, they come out with different coloring and logos to distinguish the brands.
Final Thoughts
When you look at the two brands, there's little to distinguish them. The only difference can come during the installation process where your HVAC contractor determines the quality of installation. Look for a reliable HVAC company for your new purchase and install to get the best out of your Trane or American Standard HVAC system.